Alexis Peyroles
BioLeader Interview – Alexis Peyroles (November 2020)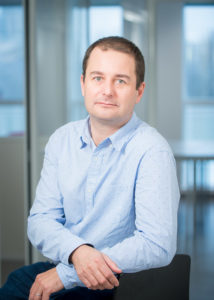 I am currently the CEO of OSE Immunotherapeutics, a French clinical stage listed biotech focused on immunotherapy; with innovative products under development in both immune-oncology and auto-immune diseases. Married with two children we are based near Paris. I graduated from EDHEC Business School and completed an executive MBA with Imperial College, London.
Key milestones in your career journey to date?
My early career was spent in Japan; after which I joined SANOFI where I had different roles in Finance and Business Development covering Asia and Eastern Europe.
In 2005 I joined GUERBET, initially as VP Financial Control, becoming GM of the South American operations based in Brazil in 2009.
We returned to France and I joined OSE as COO in 2013, becoming CEO in 2018. I was attracted to the more entrepreneurial culture in biotech; and I thought that the project and the company, founded by Dr Dominique Costantini, was very promising; and I have not been disappointed.
Who has had the greatest influence over your career?
I have been fortunate to be raised in a large family of both successful entrepreneurs, starting with my father, and corporate executives who have always been there to guide and support me during the course of my career.
Your approach to spotting and developing top talent?
Our business model focuses on partnering with leading academic institutions to further identify and develop promising drug candidates for cancer.
These relationships also help us find very talented people, who have both the ideal academic research backgrounds and the strong desire to transition to work with innovative and dynamic biotech companies like OSE.
This has enabled us to identify and develop people who share our goals, values and entrepreunarial mindset resulting in an outstanding and highly committed team of colleagues.
What attributes make an outstanding leader in today's world?
In order to adjust to the continual global changes, particularly in terms of health, science and the environment, a leader is required to be alert, anticipate critical changes and proactively adapt your strategy as needed. COVID-19 is an example: it was a huge shock to the world; at OSE Immunotherapeutics the team adapted quickly so it did not hinder our work and business and we leveraged our expertise and technology to develop our own vaccine for the greater good.
What is our industry's contribution to improving climate change?
The industry is becoming ever more environmentally conscious and I believe that it is our responsibility to operate in a sustainable manner to help limit the impact of climate change, as well as take advantage of opportunities this creates.
Even small changes, like companies being more conscious of their own effect on the environment can go a long way – including reviewing the way we manage our own waste and consumption as a business.
Then there are larger-scale initiatives. For example, the industry can work towards developing and manufacturing drugs in a way that will help reduce non-biodegradable items and plastics in certain material, which could help alleviate some symptoms of climate change.
How do you create a culture of continual learning, innovation and curiosity?
This culture again comes down to our business model and partnerships with academic institutions. We are regularly in contact with some of the greatest minds around the world and our company culture is based on encouraging discussions among our collaborators and employees.
We also have a robust pipeline with first-in-class targets that now includes Myeloid Checkpoint inhibitors; which are new becoming hot topic for discussion within the company and the industry.
It is important for a company like ours to differentiate our projects and to be recognized for the quality of our science. This is achieved by encouraging our team to learn from new techniques and collaborate on areas of interest. An example; we have developed new ex-vivo models using human tumor cells that give us an edge in assessing our products and their impact on some cancer indications.
What's your hidden talent or something that might surprise others about you?
I have been playing rugby for more than 10 years; motivating a team and playing to each team member's strength encourages a common aim to collaborate and score a Try together.
Competition is huge in our sector and is a useful motivator.
Thoughts on the current funding model for early stage companies?
Funding for early stage companies is critical in order to pursue potentially new and life changing drugs for people suffering from diseases with high unmet medical need.
OSE has a very differentiated business model as we're one of the few French biotech companies that has been able to generate significant revenue, and advance our clinical stage assets, without needing dilutive funding since our 2015 IPO. We've been able to leverage both our French and U.S. relationships to keep OSE well funded.
What will be the biggest technological transformation in the industry over the next 5 years?
Given the amount of research being applied to AI to help analyse large datasets, I believe this will result in the transformative effect this could have on the drug development process.
These new technologies have great potential to sort through the noise of a large data set, be it biomarker analysis of tissue banks of cancer biopsies to more theoretical analysis of drug-disease models.
Once these advanced techniques become validated we will see an even larger shift in reliance on them to accelerate early-stage drug development.
Your views on encouraging volunteering amongst colleagues?
OSE supports and encourages the team to pursue their outside interests and give back to the community, as they see fit. This helps people develop stronger ties and understanding of the community and those we are seeking to help, as well as to live more balanced lives.
Our employees frequently participate in cancer runs, helping us connect with the community and put a face to the people with cancer we are trying to help.
Your legacy to the sector?
I've always been driven by the desire to see a therapy that I've helped advance make a truly impactful change on the lives of people suffering from cancers and/or autoimmune diseases, and I am convinced Tedopi will be one of these.
So if I were to choose one thing I'd like to achieve in the industry, making that a reality would be it, and very meaningfully for me personally.
Your simple philosophy on life?
Words of wisdom?
Best advice I was given: "When you know the rules, you can play the game".
Advice I would give: "Focus, focus, focus".
What I wish I'd known: No need to hurry, things happen at the right time when all efforts are coordinated and focused.
Click here to read more of our BioLeaders interviews.