Annalisa Jenkins
BioLeader Interview – Annalisa Jenkins (November 2020)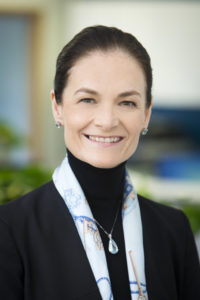 Annalisa Jenkins, M.B.B.S., F.R.C.P. is a biopharma thought leader with over 25 years of industry experience. Dr. Jenkins has extensive recent experience in building and financing biotech companies pursuing cures for the most challenging rare diseases to address important medical issues globally. She has consistently built and led teams advancing programs from scientific research through clinical development, regulatory approval, and into healthcare systems globally. In addition, she is an advocate for diversity and inclusion, particularly for women in science. Dr. Jenkins served as president and CEO of Dimension Therapeutics, a leading gene therapy company that she took public on the NASDAQ and subsequently sold to Ultragenyx.
Prior leadership roles have included the head of global research and development and executive vice president global development and medical at Merck Serono, and several senior positions at Bristol Myers-Squibb over 15 years – including serving as senior vice president and head of global medical affairs. Earlier in her career, Dr. Jenkins was a medical officer in the British Royal Navy during the Gulf Conflict, achieving the rank of surgeon lieutenant commander. Dr. Jenkins is a board member of several growing companies, including Oncimmune, AVROBIO, COMPASS Pathways, AOBiome, AgeX, ADOR Diagnostics, MedCity, DMNoMore, Conduit Connect, Affimed, Cocoon Biotech Inc. (Non-Executive Chair), and Kuur Therapeutics (Non-Executive Chair). She also is a committee member of the Science Board to the U.S. Food & Drug Administration, which advises FDA leadership on complex scientific and technical issues, board member at Faster Cures a center of The Milken Institute and Chair of The Court The London School of Hygiene and Tropical Medicine.
Key milestones in your career journey to date?
Served in the Royal Navy, becoming the first female physician to serve on the front line during the Gulf conflict 1990/91.
Appointed to Executive Medical Director for Australia and New Zealand with BMS in 1999; my first international executive level assignment, adjusting to a very different culture whilst building a new team.
First female to lead R&D at a top biopharma, Merck Serono; when culturally it was rare for females to be appointed at this level.
Founding CEO of Dimension Therapeutics in 2014 that we listed on the NASDAQ in 2015.
Drug development highlights:

Part of the team which led the development of ipilimumab the first immunotherapy that changed the trajectory and direction of science for cancer care; and apixaban the changed the face of anti coagulation and displaced warfarin.
Worked on the first global pandemic, HIV, at BMS and a broad portfolio of anti- retrovirals that changed the lives of people living with HIV infection.
Who has had the greatest influence over your career?
There have been many; but in terms of my earlier career, three male leaders in BMS quietly sponsored my career progression into leadership roles; opening doors and creating opportunities; ultimately becoming mentors and friends.
So thank you to Tony Hooper, Brian Daniels and Eliott Sigal; men who make a difference for women and highlight the importance of sponsorship.
Your approach to spotting and developing top talent?
Continually refreshing my radar by looking, listening and searching for those with energy, positivity, drive, ambition and from whom I can learn.
My military experience honed my ability to spot and develop exceptional talent.
My instinct is based on experience, underpinned by objectivity to avoid unconscious bias.
What attributes make an outstanding leader in today's world?
Manage ambiguity and risk; balance short term risk and longer term ambition.
Communication is the most powerful attribute of a leader; based on a style which is authentic, gracious and altruistic.
Creating channeling and preserving energy in the team, particularly through a period of crisis.
Graciousness that disarms and creates the light you want to cast upon the organisation.
What is our industry's contribution to improving climate change?
Many of us are committed to research and innovation which fulfils health and climate needs; working towards a commitment to become carbon neutral, as Novartis have done; but encouragement is required to accelerate the pace of change.
Particular challenges and opportunities exist in the global supply chain and manufacturing.
The life science sector is gradually embracing existing frameworks, like ESG; embedding these into the culture and fabric of an organisation.
How do you create a culture of continual learning, innovation and curiosity?
Back in 2003, BMS started the process of evolving from a knowing to learning organisation.
A team of us led the project, creating a Continual Learning Organisation (CLO)that promoted reflection, lessons learned and a culture of science innovation and science at the heart of the organization. I have taken this on my personal professional journey.
The management and care of HIV infection globally has been evolving for 30 years with many learnings along the way; we should learn the lessons and reflect on the implications as we navigate the new global health crisis with Covid. Coming together to learn and share together will help the planet prevail and navigate the new age of pandemics.
What's your hidden talent or something that might surprise others about you?
At the age of 17 I won the Daily Mail cup for Bridge (which I had started learning aged 9).
I played lacrosse and tennis for Berkshire.
Thoughts on the current funding model for early stage companies?
It is interesting to compare the US and UK markets, both supported by governments which provide an energetic framework for entrepreneurs to flourish, get funded and create successful businesses.
The US sector is vibrant, swimming in capital, yet not created and distributed equally; gender and ethnicity determine your success in tapping into pools of capital.
The UK provides seed funds but with a shortage of follow-on growth capital, which is a product of history; investors require more pull incentives; the sector requires more knowledgeable investors.
How does the LSE attract a greater number of specialized funds and increase the risk appetite of investors and the broader retail market, and thus create the vibrant UK version of the NASDAQ?
Events like the Woodford fund collapse breed fear across the sector; requiring an urgent need to rebuild confidence in the markets in the UK.
The UK government has a major role to play in creating the appropriate incentives and culture; including the implementation of the industrial life science strategy, putting science, innovation and health at the core, which will attract investment from within the UK and overseas. Covid reminds us that health economy and security are intimately connected and we must as a country invest in our innovation to ensure we can realize the vision of UK plc.
What will be the biggest technological transformation in the industry over the next 5 years?
Quantum computing combined with block chain; the curation and management of huge amounts of data, combined with the power of the human brain, and novel channels through which it will flow will accelerate innovation across biomedical research and also health care delivery.
Its application to personalised care, health and wellness, incentivised through government, will ensure a future where the right care is delivered to the right patient at the right time in the right setting.
Your views on encouraging volunteering amongst colleagues?
My involvement in the not-for-profit sector has been pursued in parallel to my professional career and is very important to me; committing around 20% of my time to the various charities I have founded or am involved with.
The learnings to be gained from leadership based on values and purpose, rather than profit, are enlightening.
Employees should be encouraged to get involved in community care about which they are passionate.
Your legacy to the sector?
The impact I have had on inspiring the next generation of leaders to achieve their potential.
Products that have come to market through teams I have led and built.
Your simple philosophy on life?
Live the life you love and love the life you live and to be thankful every day for the blessing and privilege of being able to do so in the life science and global health sector.
Words of wisdom?
Best Advice I was given: Be the most gracious and kind person in the room; but understand along the way that you can't please all the people all of the time.
Advice I'd give: Channel and focus your energies, passion and skills on what you can control and where you add value and can make a difference and let others worry about the rest.
What I wish I'd known: Approach life as a marathon rather than a 100m dash and take time to reflect on the long term rather than always being caught up in the short term. Life is about balance and making choices along the way and ensuring resilience and longevity because the longer it goes on the better it gets!
Click here to read more of our BioLeaders interviews.