Claus Oleson
BioLeader Interview – Claus Oleson (October 2020)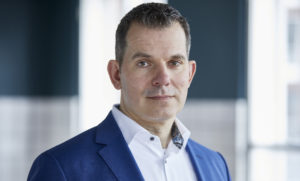 CEO and co-founder of STipe Therapeutics, a Biotech company developing a first in Class drug that harnesses the robust striking power of the innate immune system by sensitizing the STING pathway. Claus is 46 year's old living in Denmark and married to Mie Olesen and farther of 3 teenagers.
Claus Elsborg Olesen earned his PhD in Physiology and Biophysics from Aarhus University in 2008 and has been engaged in both basic and applied research with an emphasis on structural biology and function of membrane proteins ever since. Dr. Olesen has identified and facilitated the development of a number of basic science projects to the seed and VC financing stage, and he is the co-founder of Pcovery Aps (2009), an antifungal Biotech situated in Copenhagen, and NMD Pharma (2015), a biotech company focused on the development of new treatments for various neuromuscular disorders.
Key milestones in your career journey to date?
Solving my first atomic resolution structure of SERCA (sarco/endoplasmic reticulum Ca2+-ATPase) by x-ray crystallography.
Completing my PhD in Physiology and Biophysics; having reached a decision to follow a scientific career rather than professional sailing; enabling me to combine the best of sport leadership and business.
Founding four biotech companies from academic research at Aarhus University; Pcovery, NMD Pharma, STipe Pharma and Initiator Pharma.
Participating in the Americas Cup for Sweden in 2003 and the Olympics for Denmark in 2004 and 2012.
Who has had the greatest influence over your career?
My parents who always encouraged me to follow my passion and what I believed in.
Three academics – Professor Poul Nissen, Professor Jesper Vuust Møller and late Professor Jens Nyborg – who helped characterise my approach to science and leadership; remain open minded, be curious, ever tenacious to solve challenges, and enjoy the success of others.
Coaches from my sailing and football playing days; Rod Davies who encouraged focus on why we are doing things and how; and my high school american football coach, Coach Page, who instilled in me to always play hard and give it all you have.
Your approach to spotting and developing top talent?
Meet and interact with people to hear their views and solutions to challenges and then identify and attract those who are the smartest, thinking outside the box, takes the initiative to support others, challenge and disrupt, and are ever curious.
The coaching skills I learnt from sailing and football have transferred seamlessly into business.
What attributes make an outstanding leader in today's world?
The ability to continually flex and modify a plan when the original strategy gets derailed.
The vision to see what will ultimately be achieved; strategically creating a plan leading to this.
You are born with two ears and one mouth; listening is an essential skill.
What is our industry's contribution to improving climate change?
Continue to explore the benefits of recycling across the industry.
Balancing off the need to travel against the use of video technology as we come out of Covid.
How do you create a culture of continual learning, innovation and curiosity?
Encourage scientists to actively participate in conferences; supporting them financially.
Informal approach to brainstorming e.g. using the 'What If' scenarios play; from this I have seen our proprietary assay development improve, creating valuable biological data enabling us to develop and differentiate our novel sensitizing technology.
Bring different groups together to discuss projects from which they broaden their understanding and contribute wider thinking.
What's your hidden talent or something that might surprise others about you?
Visiting art museums and galleries fulfil some of my creative needs.
Thoughts on the current funding model for early stage companies?
Denmark has increased its capability hugely since the creation of Bioinnovation Institute through the Novo Nordisk foundation, offering convertible loans of €1.5m to seed fund and create proof of concept biotech's, positioning them to attract international investors like we did with STipe Therapeutics.
Accomplished and experienced leadership for early stage companies is in short supply in Denmark and other parts of Europe and I seen this as bigger challenge than sourcing the needed funding.
What will be the biggest technological transformation in the industry over the next 5 years?
Oncology biomarkers will create valuable big data.
Your views on encouraging volunteering amongst colleagues?
Volunteering tends to be focused on sports clubs in Denmark, creating work/life balance, and encouraging youngsters to excel at different sports.
Your legacy to the sector?
Way too early to say; but I would like to be remembered as the guy who developed an oncology drug which benefited many patients.
And who inspired others to excel at science and leadership.
Your simple philosophy on life?
'Always remember your focus determines your reality' (Starwars).
'From here……' (a sailing quote from Iain Percy).
Words of wisdom?
Best Advice I was given: "You only get out of it what you put into it".
Advice I'd give: "Stay humble; remain grounded; learn on the way up".
What I wish I'd known: "That it doesn't need to be perfect".
Click here to read more of our BioLeaders interviews.