Eric Mayes
BioLeader Interview – Eric Mayes (April 2021)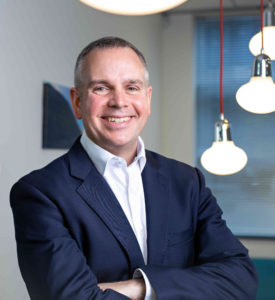 Dr Eric Mayes is CEO of Endomag and has over 20 years' experience in developing and leading materials technology companies spanning data storage, display technology, printed electronics and medical devices. Eric has led oncology-focused Endomag through its rapid growth since marketing its first device for staging breast cancer in late 2012. The company has now helped over 130,000 patients receive a higher standard of care in over 550 hospitals across 43 countries.
Prior to joining Endomag in 2010, Eric served as Director of Commercial Development for Cambridge Display Technology (CDT) which was sold to Sumitomo Chemical in 2007 for $285m. Prior to CDT, he served as CEO of NanoMagnetics that developed high performance materials for the data storage industry. For that founding role, he was named the Royal Society of Chemistry's "Entrepreneur of the Year 2003".
With a strong interest in supporting the translation of scientific research, Eric lectures internationally on nanomaterials commercialisation and technology entrepreneurship. He is an advisor to the University of Texas at Austin's "Texas Health Catalyst" and the European Healthtech Translation Advisory Board (HealthtechTAB). He holds a BSc in Physics from Arkansas State University, a PhD in Chemistry from the University of Bath and is a Fellow of the Royal Society of Chemistry.
Key milestones in your career journey to date?
Coming to the UK in 1996 to do my PhD in Chemistry at Bath.
Moving away from the comfort of academia into business to found NanoMagnetics, a venture backed fledging, to take on IBM in the data storage sector; what a learning that turned out to be!
Joining Cambridge Display Technology (CDT) in 2006; encouraged by David Fife to join up, with no initial remit, and ultimately taking on increasing responsibilities in commercial leadership.
Moving to Endomag in 2010 as CEO with a much more rounded set of skills.
Who has had the greatest influence over your career?
My parents; both academics who always encouraged me to explore my passions; and funded a trip to a nanotechnology conference in San Francisco when I was just out of high school – the catalyst for my future studies.
The opportunity at Endomag was particularly compelling on a personal level; my mother was originally diagnosed with breast cancer in the early 90s; 3 years ago, she had a recurrence and her amazing surgeon based in Texas used our Magseed technology.
The first Chairman of NanoMagnetics, Geoff Shingles, who remained an influential mentor throughout my career; sadly passed in early 2021 and will be greatly missed.
Your approach to spotting and developing top talent?
Informal mentoring; focus on bright, self-aware and creative colleagues giving clear direction, demonstrating potential opportunities as the business evolves; this has worked so well with the senior leadership team at Endomag who are the bedrock of the company and helped deliver our growth over the years.
What attributes make an outstanding leader in today's world?
Create a culture which embraces openness, accessibility, compassion and flexibility.
Building engagement between all the key stakeholders who are part of the community – colleagues, KOL, surgeon, patient.
Be prepared to adapt the business model.
How do you create a culture of continual learning, innovation and curiosity; and how might volunteering contribute towards this?
Share data with colleagues to encourage curiosity, openness and accessibility.
Encourage colleagues to have an external focus.
We visit schools to talk about Sentimag and career opportunities in science.
The 2020 pandemic has changed the way we all work, possibly forever; what will remain beyond Covid and what will you welcome back?
Flexible working will continue at Endomag; 60% remote working.
Offices will become more of a destination, creating social interaction, with tasks being fulfilled from the home office.
Thoughts on the current funding model for early-stage companies; and the impact on valuations and availability of capital catalysed by the 2020 pandemic?
Strong emergence of long-term support model through new groups of investors; Endo saw this during our recent successful fund raise.
The drip feed model instils strong financial discipline but hampers scaling.
I am uncertain about the long-term viability of SPACs.
Regulators have adjusted their pace to meet the challenges of Covid; how can you foresee this might play out with the approval of future non-Covid therapies and technologies?
The regulators have demonstrated that they can operate in a different way to bring winners to market more quickly, whilst meeting the safety criteria; particularly for break-through products focused on unmet medical needs.
The fast-track review and early engagement of development pathways, both at clinical and manufacturing stages.
What will be the biggest technological transformation in the industry over the next 5 years?
AI and robotics linking imaging and surgery.
Consumers are increasingly taking more control over their own healthcare, through the use of devices like the Apple watch.
The increased approval of devices which enable BP and blood glucose monitoring, resulting in actionable information for the consumer.
What's your hidden talent or something that might surprise others about you?
I played the trumpet professionally and played drums on an album with a Bristol band, Energy Thief.
My passion for running has evolved into triathlons.
Your simple philosophy on life?
Never do today what can be put off to tomorrow; pausing may provide clearer insight to a better outcome; reflection vs action.
Words of wisdom?
Best Advice I was given: I don't have to provide all the solutions; build a diverse team which provides and owns the answers.
Advice I'd give: You don't have to solve all the problems; utilise the power of the team.
What I wish I'd known: Mistakes are as powerful as successes; stick with it and you can get there.
Click here to read more of our BioLeaders interviews.