Giulio Cerroni
BioLeader Interview – Giulio Cerroni (June 2020)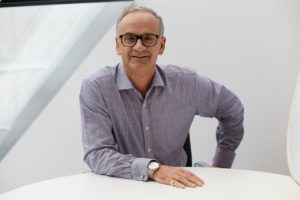 Since joining IXICO as CEO in Feb 2017, I have enjoyed setting and achieving a path to profitability to turn around the fortunes of IXICO as a listed business.  Milestones achieved include a three-year revenue growth CAGR of 35%, an oversubscribed capital placing of £5.5m and reporting the company's first profits as a listed business for fiscal year 2019. As my first CEO role in a listed business, it has been particularly satisfying to see these achievements translate to very significant share price accretion over the past 12 months.
I have over 35 years' experience within the life science industry across a wide range of sectors and technologies including genomics, diagnostics and most recently, clinical development. In this time, I have had the opportunity to develop my career through working in privately held companies, publicly-listed multinationals and private-equity owned businesses and have developed a track record of successful international expansion in Europe, N. America and Asia, raising growth capital and completing a successful PE exit. In addition to my science degree, I was awarded my MBA with distinction from Warwick Business School in 2000.
I am 58, and have been fortunate to be married to Gianna for 36 years, who I met in my freshers' week at Cardiff University! We have two children, who we, of course, love dearly and of whom we are immensely proud. Both are lawyers, with Paolo working for a global media company and Gabriella, within luxury retail.
Key milestones in your career journey to date?
My first job with Dupont created a robust platform for my broad business training, at the forefront of molecular biology. Starting my career in a large multi-national enabled me to appreciate the importance of cultural diversity, innovation, and the excitement of bringing new technologies to market, such as high-throughput screening technologies for drug discovery and DNA sequencing.
My first UK MD role at Anachem gave me experience of protecting a market-leading position and its associated price premium, investing in after-sale service levels to reinforce strong brand value with clients by and ultimately transforming the market by launching innovative leasing models to drive and retain customer loyalty.
In my 8-year tenure at Thermo Fisher Scientific, Inc., I held a number of leadership roles across both Life Science and Speciality Diagnostic divisions, culminating in leading the Anatomical Pathology business with $280m revenues and 725 staff in 9 locations. These experiences reinforced my understanding of the value of international expansion into emerging markets to drive double digit growth. Large corporations provide great experiences and career development opportunities across a wide range of sizes and types of business. For example, it also taught me a lot about manufacturing when I became the general manager of an under performing UK manufacturing site, transforming it to become a world class business, re-invigorating the underlying strong manufacturing capabilities of the organisation by aligning those capabilities with a successful, commercially-led growth strategy.
Joining LGC as MD for a nascent genomics division, private equity backed and subsequently acquired by KKR. KKR's acquisition followed a 3-fold growth of the business to create a global genomics platform including expanding operations in Asia and the US. This was achieved by accelerating the adoption of LGC's proprietary technologies into the global Agri-genomics market and completing three acquisitions within 18 months.
Joining IXICO in 2017 has given me my first CEO role in a listed business with the mandate of driving growth and transforming the company's fortunes. In the past 3 years, we've more than doubled revenues and in 2019, reported our first year of profit since listing. In addition to focusing on strategy and operational execution, this role has reinforced the importance of articulating a clear, simple message on our mission, capabilities and how we measure success and the emphasis on building on our success through great teamwork.
Who has had the greatest influence over your career?
In chronological order:
My father, who, as an ex-professional boxer encouraged my early interest in playing sport which created focus, self-discipline, and determination to win.
Robin Stracey, who I now realise took a calculated risk in giving me – a recent graduate with no work experience – my first job. Robin supported my early career in Dupont and I have been fortunate to subsequently work with him later in my career, engaging him as a consultant to support M&A transactions.
Iain Henderson, COO of Diploma plc. Iain always considered matters in a calm and thoughtful way. He taught me the importance of listening and careful consideration.
Kirk Kimler, President and GM at Thermo Fisher. Kirk taught me the importance of discipline and pace in business decision making.
Marc Casper; Chairman, President and CEO of Thermo Fisher Scientific. Marc's stated aim to always do the right thing is inspiring.
Your approach to spotting and developing top talent?
Ensure your top talent has both the will and the skill to deliver what is required.
Create clarity of purpose and a platform from which they can have the greatest impact.
Hold them and their staff accountable for deliverables and commitments made.
What attributes make an outstanding leader in today's world?
Look forward and focus on what you can control.
Courage supports the ability to take calculated risks, and the recognition that things may not always turn out as you planned.
Resilience will support rapid and rational action when things do turn out differently – you are likely to be judged on what you do in response to failure and how quickly you do it.
What is our industry's contribution to improving climate change?
Greater focus on deployment of technology into the food chain to support a growing population; for example, agri-genomics to improve plant breeding and animal husbandry to use less of the planet's precious resources and reduce the use of chemical insecticides and pesticides.
Given global industrialisation, in particular in emerging markets, the application of science for better monitoring and detection technologies to mitigate environmental pollution.
How do you create a culture of continual learning, innovation and curiosity?
Establish the company values which clarify what you as a leader and the company stand for. Innovation is only impactful if there is clear purpose beyond scientific interest and curiosity factor. At IXICO, we aim to set out what it's like to work at our company, through our 4 A values:
Aspiration
Ability
Agility
Accountability
What's your hidden talent or something that might surprise others about you?
Perhaps in common with most young boys, I aspired to become a professional footballer for my home team, Swindon Town. Fortunately, and with the benefit of hindsight, I only retained this as a hobby and instead transferred my drive and passion into business!
Thoughts on the current funding model for early stage companies (pre Covid-19)?
There does not appear to be a shortage of early stage funding; however, the operational experience required to turn scientific development into commercial success is underestimated. Academics, investors, and government need to appreciate and value operational capabilities much more if UK-driven innovation is to compete on the global stage. Make sure funding is also provided for operational excellence, not just excellent science. You need both to win.
Be clear at the outset what each milestone looks like and how you plan to measure success, with clarity on how you plan to deploy capital.
Deliver what you say you will. Don't forget that those with responsibility for making capital investments are backing the leadership to deliver.
What will be the biggest technological transformation in the industry over the next 5 years?
Precision medicine: How we interpret the increasing amount of data being generated by new technologies, greater computing power and new AI deep learning platforms, effectively. Our strapline at IXICO – "Advanced analytics, Intelligent insights"- signals our intent to be a leading proponent in the deployment of such technologies in the Neuroscience Clinical Development market.
Genomics and development of molecular biology for the benefit of healthcare and the food chain; much of the technology already exists but needs government and societal acceptance to gain greater traction of new approaches.
Your views on encouraging volunteering amongst colleagues?
I much prefer to encourage and support individuals to follow their own passion and interest over company-instigated volunteering initiatives. I believe that this creates greater engagement over the medium to long-term.
Your legacy to the sector?
My goal has always been to leave the businesses that I have led in a better place than they were before I joined them – with a focus on growth. I've had the privilege to contribute to the development of talented individuals with a strong work ethic to build smart teams that can look at business challenges and opportunities differently to create greater growth and success.
I've also had the opportunity to play a small but impactful role in encouraging innovation and the application of new, cost effective high throughput scientific technologies, like sequencing, for the greater good of everyone to live longer and healthier lives.
Your simple philosophy on life?
Be true to yourself and support others.
Words of wisdom?
Best advice I was given: Act decisively, monitor often.
Advice I would give: Be brave, be kind and be patient.
What I wish I'd known: Think bigger to take greater advantage of the opportunities out there.
Click here to read more of our BioLeaders interviews.