Jonathan Tobin
BioLeader Interview – Jonathan Tobin (October 2020)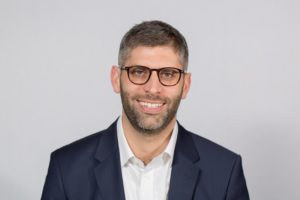 Jonathan specialises in biotechnology investments and serves on the board of Arix portfolio companies Artios Pharma, Atox Bio, Stipe Therapeutics, Depixus, VelosBio, and Quench Bio. Prior to joining Arix Bioscience, Jonathan spent five years at Touchstone Innovations (formerly Imperial Innovations), where he was a Principal in the Healthcare Ventures team, and was involved with the formation of a number of early stage UK biotech companies. Previously, Jonathan worked at LifeArc (formerly MRC Technology), sourcing and evaluating new small molecule and antibody drug discovery projects.
He has a first-class degree in biology from the University of Oxford, a PhD in Molecular Medicine from UCL, carried out postdoctoral research at the Cancer Research UK London Research Institute (now Crick Institute), and published research in journals including PNAS, New England Journal of Medicine, and Nature Genetics. Jonathan has an MBA with Distinction from Imperial College Business School, is a Trustee of the Autism Centre of Excellence, and a member of the Investment Advisory Committee for the KHAN-I fund, an early stage biotech fund based in Germany focused on translating academic discoveries into new therapeutics.
Key milestones in your career journey to date?
The opportunity to gain a broad introduction to the commercial investment world in early stage life science companies with Touchstone Innovations (formerly Imperial Innovations).
Instrumental in setting up a number of successful early stage companies like Inivata and Artios.
Helping to build Arix from a start-up in 2016; now managing assets of several hundred million with 16 companies and 25 products in clinical trials.
Developing the skill of motivating and leading exceptionally bright colleagues.
Who has had the greatest influence over your career?
My parents who encouraged me to follow my ambition to invest in early stage biotech companies; and my wife for her on-going support.
Professor Phil Beales who inspired me in my scientific training during my PhD.
Your approach to spotting and developing top talent?
I generally rely on my intuition to identify those who are passionate, and slightly obsessed, about science; those with encyclopaedic knowledge with a huge resource of ideas and answers; and allow them freedom to act.
I look for core values of authenticity, credibility, team playing, trustworthiness; those who are committed to building sustainable companies which will create success for all stakeholders.
The investor world needs to be encouraged to become more effective at mentoring; Arix aspires to do this.
What attributes make an outstanding leader in today's world?
Able to make smart decisions quickly; the Covid-19 pandemic has demonstrated how effective leaders in the sector can be at corralling the best brains and skills, very quickly, to work towards a positive outcome.
Motivating a challenging team of very bright individuals to create success for all stakeholders.
Adapting and flexing; able to roll with the punches.
Generosity of time, mentoring high potential talent.
What is our industry's contribution to improving climate change?
We must continue to reduce our travel; one economy ticket to New York requires the planting of a 100 acres of trees to offset the carbon emissions!
If we all continue to review the management of waste and consumption, the environment will benefit.
What more could be done to reduce the use of non-biodegradable products and plastics during the manufacturing process?
How do you create a culture of continual learning, innovation and curiosity?
Create a culture through leadership which values these characteristics.
Encourage the team to learn new techniques, collaborating across different disciplines.
Creativity and innovation should be rewarded.
Allow less experienced colleagues to make mistakes and learn through them, rather than being punished.
Create a forum to discuss and develop ideas transparently.
What's your hidden talent or something that might surprise others about you?
I listen to a lot of heavy metal music and play the guitar.
Thoughts on the current funding model for early stage companies?
Focus early stage investment on the best entrepreneurs and founders rather than purely focusing on the science or technology.
Then allow them autonomy to get on with the job avoiding the temptation to micromanage.
There are many early stage funds – maybe too many; make the focus quality rather than quantity of investments.
Encourage early scale-up even if the asset is not fully derisked.
What will be the biggest technological transformation in the industry over the next 5 years?
The harnessing of massive computing power in biology, moving it away from a cottage industry to the creation of big data, at immense speed.
Smarter ways of running clinical trials towards basket studies which focus on multiple diseases in real time.
Your views on encouraging volunteering amongst colleagues?
You can participate in a major way, working as a Trustee or fundraising for a charity; or get involved locally with your community; both of which create a greater understanding of those who are less fortunate.
Arix would actively support any colleague who wanted to get involved in volunteering.
Your legacy to the sector?
Way too early to say; but I aspire to create a company and products which are useful to society.
And attract and develop others to become great scientists and leaders.
Your simple philosophy on life?
I believe strongly in karma.
Words of wisdom?
Best Advice I was given: Master the literature of the field you are working in and develop that expertise.
Advice I'd give: Get good at networking and grasp the opportunities that come along.
What I wish I'd known: Fake it until you make it; confidence will get you a long way.
Click here to read more of our BioLeaders interviews.