Keith Thompson
BioLeaders Interview – Keith Thompson (January 2020)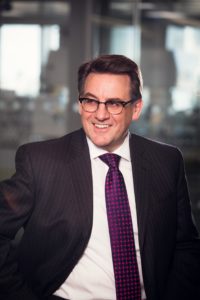 I am the CEO of the Cell and Gene Therapy Catapult, which I started in 2012 and from which will be retiring in April 2020. At various times MD of Bioscot Scotland's first Biotech company, VP of NASDAQ listed Serologicals, National Director of SNBTS, several industry/association Boards including BIA, ARM, IPFA, EBA; age 62; married to Helen for 40 years with 2 grown up children; Born near Liverpool but lived most of adult life in (and travelled the world from) Edinburgh moving to London to set up the Catapult; education: Grammar School in Merseyside, Birmingham University for Biology and then Genetics, Edinburgh for MBA; Hobbies: I played rugby until I was crocked in my late 20's but recently donned the lycra and cycle. I am also a confirmed petrol head but quite willing to be a battery head.
Key milestones in your career journey to date?
Accidentally getting my first job in Monoclonals in 1979.
Falling in love with manufacturing at Monoclonals when I wandered into the stainless-steel palace that was GD Searles pilot plant in 1984.
In the mid-1990s making the transition from functional roles to leading businesses.
My first acquisition whilst at Serologicals (Pentex bought from Bayer).
Suddenly finding myself running the Scottish Blood Transfusion Service and leading its transformation whilst under public and political scrutiny and dealing with vCJD in the blood supply.
Establishing the Catapult and setting out a vision for a new industry.
Who has had the greatest influence over your career?
I've tried to learn something from all the outstanding people I've worked with but the person who changed my course most was Terry Dobson who was Managing Director of Bioscot in the early 1990s and my boss. I had been headhunted to go and work for Centocor in Leiden and when I went to resign, he immediately offered me his job which I took! He continued to help me grow into the role, quite extraordinary.
Your approach to spotting and developing top talent?
Look for people with passion and the capacity to grow and make sure that other people will want to work with them as well. It's no good having talented loners, few people can achieve extraordinary outcomes on their own.
What attributes make an outstanding leader in today's world?
Create compelling visions for people to work toward and high-level measure's that tell them they are on the right road. Be open and communicative, even when things start going wrong, bumps in the road are inevitable but others will look to see how you navigate them. Be comfortable with ambiguity but keep your core messages straight. Keep your eyes on the horizon and your feet on the ground.
What is our industry's contribution to improving climate change?
I think we need to be honest that this can be a difficult one for us. During my career we have seen a massive expansion in single use disposables in manufacturing and blood transfusion but that has undoubtedly meant safer and more reliable products compared to when we used stainless steel and glass bottles. Thankfully the buildings that we use are now much more energy efficient and we can employ good practice throughout with video conferencing and such like. As Chair of the Catapult Network I get to see other sectors first-hand making huge changes such as Offshore Renewables – truly inspirational.
How do you create a culture of continual learning, innovation and curiosity?
You need formal programmes like personal development plans but it's important that these don't just become formulaic and administration led. At CGT Catapult I put in place a values culture based upon; Collaboration, Aspiration, Innovation and People. We celebrate this and try to live it. If you find yourself saying "I tried that in 1998…… and it didn't work" – take yourself outside and give the old you a good talking to.
What's your hidden talent or something that might surprise others about you?
I have few talents so don't try to hide them! I do like history though, both ancient and modern and I particularly like seeing the manifestation of history through art. When visiting a museum or gallery with friends I'm always the last to leave.
Thoughts on the current funding model for early stage companies?
Broadly speaking good ideas find funding and having been an angel investor I fully understand the desire for exits! We constantly and jealously compare ourselves to US funding but its broadly the same formula at a larger scale with a little more willingness to take risk.  Our real issue is how we build companies of scale that can benefit the economy in the long run. Government has an important role to play by getting the balance of grants, R&D policy, tax and incentives in balance and then sticking with it.
What will be the biggest technological transformation in the industry over the next 5 years?
We are only just seeing the current crop of Cell and Gene Therapies reach patients. The pace of technological change in this sector is extraordinary and we will see rapid improvements in the underpinning technologies that make these therapies work and capable of enabling large scale delivery to patients.
Your views on encouraging volunteering amongst colleagues?
Make it fun, I've had some great experiences on sponsored bike rides with colleagues.
Your legacy to the sector?
I set out to help accelerate the creation of a Cell and Gene Therapy Industry when I started the Catapult and the success has been fantastic, it's gone further faster and is bigger and better than I hoped. Most importantly the treatments are truly life changing. I got the first inkling of how transformative this could be with some patients that were treated with early cell therapies when I was at SNBTS (pancreatic islets, limbal stem cells for blindness and EBV transformed T Cells for Post-Transplant Lymphoproliferative Disease). The latest therapies allow us to think in terms of cures and are opening up a whole new branch of medicine.
The other legacy I'm proud of is what started out as Bioscot and is now in Merck KgA. We made the world's most complete range of human and murine monoclonal antibodies for blood transfusion and got them FDA licensed in the late 1980s and 1990s. Until then blood grouping reagents were made from human sera of inconsistent quality and limited availability. Those monoclonals are still being manufactured and supplied from the factory I set up in Scotland in 1996. They still accurately and safely test a huge percentage of the worlds 100m blood transfusions every year.
Your simple philosophy on life?
I think it was Winston Churchill who said, "find a job you love and you'll never work again". That seems pretty good to me. The other half of that equation though is that life isn't all about work, don't forget your family or they might forget you.
Words of wisdom?
Best advice I was given: Remain focussed and stay in the game.
Advice I would give: Never lose your self-respect, it will guide you through lots of tough decisions.
What I wish I'd known: 100,000 miles in the air every year isn't an achievement.
Click here to read more of our BioLeaders interviews.