Kevin Lin
BioLeaders Interview – Kevin Lin (December 2019)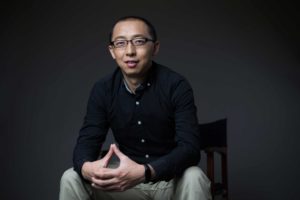 CEO, TusPark UK; lives in Cambridge; education: Master of Public Management, Hobbies: collecting traditional Chinese furniture.
Key milestones in your career journey to date?
Joined the financial sector in China; initially as a management trainee with a commercial bank; followed by a Trust Company where I learnt how to identify and fund successful investments; these experiences gave me great oversight of the complexity of the financial sector; and prepared me well for TusPark, which is all about value creation.
Who has had the greatest influence over your career?
My current boss Steve Wang who is the COO/CEO of TusHoldings and an energetic, charismatic entrepreneur; we have worked together since 2014; Steve had the vision and defined the strategy for creating the collaborative science park model which we have launched in the UK.
Your approach to spotting and developing top talent?
I have hired a team of 10 in the UK all of whom are encouraged to move out of their comfort zone and work out what their strengths are; they understand TusPark is a platform for employees and tenants; and to remain relevant they must ensure the synergies of the external and internal markets are met.
What attributes make an outstanding leader in today's world?
External focus; broad cultural perspective; global thinker removing the barriers for global trade; visionary; fairness; honesty.
What is our industry's contribution to improving climate change?
The challenge is trying to work out the democratic outcome for the planet and people; using natural resources more effectively to create a convenient, comfortable life for people whilst using those resources in a different way – and less of them.
How do you create a culture of continual learning, innovation and curiosity?
TusHoldings has a business school which selects middle management people with high potential to attend for a year. These people work on a discrete project that they discover in their everyday work; this encourages us to have an outward focus, collaborate and think globally.
What's your hidden talent or something that might surprise others about you?
Details focused and I have an excellent memory which serves me well in all walks of life!
Thoughts on the current funding model for early stage companies?
As someone who understands the Chinese funding model, which is very supportive of early stage companies, I feel there could be greater clarity from the UK government on funding channels at national and local level; to help create more consistency.
What will be the biggest technological transformation in the industry over the next 5 years?
Cardiovascular diseases are the greatest cause of death in China; the focus is on technologies related to these diseases as well as oncology, neurology, infectious diseases, in the range of screening, diagnosis, treatment, medicine, medical devices, etc.
Your views on encouraging volunteering amongst colleagues?
We encourage individuals to work as a volunteer with a charity they feel strongly about.
Your legacy to the sector?
I aspire to strengthen the positive collaboration between the UK and Chinese to benefit the global ecosystem.
Your simple philosophy on life?
Relax yourself and follow your heart.
Words of Wisdom?
Best advice I was given: The most difficult thing in life is to know yourself.
Advice I would give: Relax yourself.
What I wish I'd known: Well, it is greedy knowing too much. Life is fun if you don't know what is ahead.
Click here to read more of our BioLeaders interviews.