Nazneen Rahman
BioLeader Interview – Dr Nazneen Rahman, Founder & CEO YewMaker, NED AstraZeneca (June 2021)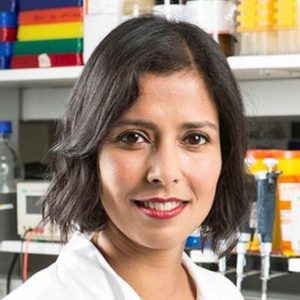 Nazneen Rahman CBE, MD, PhD, FRCP, FMedSci
Nazneen Rahman has made significant contributions to science and medical research over the last 25 years. She is an internationally recognised expert in cancer genomics and was Professor of Human Genetics at the Institute of Cancer Research and Head of Cancer Genetics at the Royal Marsden Hospital, London until 2018. Nazneen is a Non-Executive Director at AstraZeneca, Chair of the AstraZeneca Science Committee and oversees Sustainability for the Board.
Nazneen is now focussed on making healthcare more environmentally and economically sustainable. In 2020, she founded YewMaker, an action lab that builds, tests and scales sustainable healthcare solutions. In 2021, she became Director of the Sustainable Medicines Partnership, a multi-stakeholder private-public partnership delivering evidence-based solutions to reduce medicines waste and sustainably get medicines to more people.
Nazneen has a strong commitment to open science and science communication and has garnered numerous awards, including a CBE in the 2016 Queen's birthday honours, for services to Medical Science.
Key milestones in your career journey to date?
Decision to study medicine at Oxford; my parents wanted me to be a doctor or a lawyer. I didn't want to be a lawyer!
Followed by a PhD in Molecular Genetics which enabled me to get involved in genomics at an early stage; being at the cutting-edge of new knowledge, harnessing data, and delivering disruptive change have followed me throughout my career.
I learnt the act of juggling priorities during this time, becoming a young mother during my junior doctor training – a very useful skill!
Adopting a systems approach to genomics whilst working at Institute of Cancer Research and Royal Marsden between 2005-2018, leading to the integration of the academic, diagnostic and clinical cancer genetic operations at the Royal Marsden and ICR over a 10 year period. This resulted in an international Mainstreaming Cancer Genetics programme to deploy cancer predisposition gene testing into routine cancer care, cost-effectively and sustainably.
Joining the AZ Board as an NED broadened my understanding of how corporations operate in the healthcare ecosystem, and their potential to contribute to global health, as seen in the pandemic.
2019 saw the next phase of my career; developing my holistic, systems approach and entrepreneurial skills through YewMaker an action lab making healthcare sustainable, and our flagship programme the Sustainable Medicines Partnership (SMP) a not-for-profit, multi-stakeholder collaboration to reduce waste and increase access to medicines; sustainable science and human change working together.
Who has had the greatest influence over your career?
I have been blessed with many mentors. Mrs Perry, my school physics teacher, stimulated my love of science; David Weatherall, during my medical training, was a brilliant scientist and an equally brilliant and compassionate doctor; Mike Stratton, my PhD supervisor, taught me that scientific rigor can never compromised and many of the passionate, talented people I've had the privilege of working with have inspired me and influenced me.
Your approach to spotting and developing top talent?
Keeping an eye open for those who are curious and passionate to drive change but are also willing to be accountable and can pick themselves up when the road gets bumpy, as it always does. It is a joy to find and support such people.
What attributes make an outstanding leader in today's world?
Resilience, curiosity, ability to flex around a team strengths.
Making a vision tangible, so others want to follow.
Being able to pivot fast when the world around you changes.
How has it been starting a new venture during the pandemic?
The pandemic has brought the need for healthcare sustainability into the limelight, revealing the fragility of supply chains, and the global nature of the healthcare ecosystem which must work for all of us, or it will work for none of us. We have found people to be very engaged in our mission to make healthcare good for us, good for the planet, and good for business. People are shocked that we are throwing away billions of safe, effective medicines every year, and many want to help.
How are you planning to reduce the waste of medicines?
First, we are building the Sustainable Medicines Partnership with representatives from all stakeholders from corporations to citizens. Second, we are designing 3-year projects that target six pillars of sustainable medicines, and will provide practical, tested, scalable, evidence-based solutions. Third we will scale the proven solutions.
The 2020 pandemic has changed the way we all work, possibly forever; what will remain beyond Covid and what will you welcome back?
I have enjoyed working from home, and not commuting as much. But I've also missed the camaraderie and energy that being with the team brings. So, I hope we can retain flexibility to get the best of both, post-pandemic.
Regulators have adjusted their pace to meet the challenges of Covid; how can you foresee this might play out with the approval of future non-Covid therapies and technologies?
I think the changes will be long-lasting, particularly the efficiencies gained from greater use of digital technologies throughout the trials and approval processes.
What will be the biggest technological transformation in the industry over the next 5 years?
Improved connectivity and curation of information, at scale, will make us much better and faster at turning data into applicable knowledge.
What is your hidden talent or something that might surprise others about you?
I'm a singer songwriter. It's not so hidden these days as I've released four albums over the last decade. The first three comprise The BitterSweet Trilogy and explore the changes, choices and chances we meet in life. In 2020, I wrote Together Apart, a real-time musical journal of lockdown life called which resonated with many: www.nazneenrahman.com
Words of wisdom?
Best Advice I was given: Focus on the outcome, not the obstacle.
Advice I'd give: Be transparent whenever possible, particularly when you make a mistake. People can be forgiving, but not if they feel misled.
What I wish I'd known: Most anxieties are not worth worrying about.
Click here to read more of our BioLeaders interviews.