Peter Joyce
BioLeader Interview – Peter Joyce (April 2021)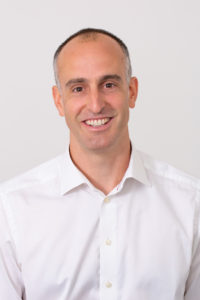 Peter Joyce is Co-founder and Chief Executive Officer of Grey Wolf, having founded the Company in 2017 with Tom McCarthy. Prior to Grey Wolf Peter was at Vertex Pharmaceuticals where he led drug discovery projects, had responsibility for leading a number of target identification teams that led to multiple novel drug discovery projects and was involved in delivering clinical drug candidates. Peter has a broad scientific experience across therapeutic areas having worked on projects in oncology, genetic diseases and neurodegeneration. He also pioneered the development of complex neurological assays suitable for assessing the functional impact of optimized compounds.
Before Vertex, Peter was an MRC Research Fellow investigating the pathophysiology and underlying mechanisms of neurodegeneration and published multiple publications. Peter holds a PhD in Biochemistry and Molecular Genetics from the University of Bristol and a BSc in Biochemistry.
Key milestones in your career journey to date?
My post doc fellowship with the MRC highlighted the power of collaboration, when leaders from disparate groups work together towards a common goal, for the benefit of all; something that I now place great emphasis on nurturing and facilitating amongst our network of collaborators.

Stepping away from Vertex and setting up Grey Wolf with Tom McCarthy to create a biotech from scratch with a truly focused and "all-in" approach, ensuring that the passion for developing a novel therapy is the driving force throughout the team.

Creating the opportunity to drive innovative ideas through helping establish other biotechs, such as Pathios Therapeutics, and adopting a similar operating model we have at Grey Wolf.
Who has had the greatest influence over your career?
My wife, Vicki, who believed in me and supported me to pursue my entrepreneurial instincts.

My parents who always supported me to follow my passion and interests but I also realise now, with my own kids, instilled good habits and work ethic.

My chemistry teacher, Tony Locke, who inspired me to follow my passion in science.

Tom McCarthy, Exec Chair Grey Wolf, who helped open the door to the biotech startup world for me and has mentored me along the way.
Your approach to spotting and developing top talent?
Those who demonstrate shared values; e.g teamwork, striving to excel, innovative intuition, passion for the work and entrepreneurial flair.

In developing talent, allowing individuals to take ownership for their work and make decisions.

I continually refresh my network which includes some outstanding individuals.
What attributes make an outstanding leader in today's world?
Flexibility and resilience: Ability to roll with the punches and respond to the environment and latest data.

Diversity of experience, which provides the tools to assimilate data from multiple areas and enables lateral problem solving.
How do you create a culture of continual learning, innovation and curiosity; and how might volunteering contribute towards this?
Passion and experience blending with discussion and skills to channel curiosity and innovation.

Live what you say.

Volunteering is very much down to the individual; but we are considering introducing a company initiative.

Exposure to speakers or literature from diverse backgrounds and insight.
The 2020 pandemic has changed the way we all work, possibly forever; what will remain beyond Covid and what will you welcome back?
The change to working behaviours, as a result of the pandemic, has created a more flexible and positive working environment; forever changed for the better.

We have demonstrated that home working does not negatively impact productivity.

Regular team building initiatives (e.g. wine/cheese tasting, team activity challenges) which we very much needed during the various lockdowns, but we will continue when restrictions ease.

That said we have also recognised that we miss and need social interaction with colleagues; those water cooler conversations.

Once there is a choice, we will adopt a hybrid model of flexible working, involving at least 1-2 days a week in the office.
Thoughts on the current funding model for early-stage companies; and the impact on valuations and availability of capital catalysed by the 2020 pandemic?
There are no signs that the availability of funding for healthcare companies is slowing down.

The UK continues to lag behind the US in funding start-ups; what can we learn from them to accelerate our success and capitalise on the current wave?

How do we recycle the achievements for the next generation of talent and leaders?

The last year has demonstrated the power of healthcare to fix world problems.
Regulators have adjusted their pace to meet the challenges of Covid; how can you foresee this might play out with the approval of future non-Covid therapies and technologies?
I'm not sure anything will replicate what has been achieved with the vaccines.

However, agencies will continue to collaborate, demonstrating flexibility when interpreting data in certain disease spaces where there is a high unmet medical need.
What will be the biggest technological transformation in the industry over the next 5 years?
Nucleic acid therapies, which is more likely to come to fruition in the next 10-15 years. Progress in this area will likely be driven by advances in delivery technology to discrete cell populations.
What is your hidden talent or something that might surprise others about you?
Paddle boarding is a great way to clear my head and re-energise.

I can still rap most of the lyrics to some 90s hip hop classics.

Playing competitive table tennis with my children.
Your simple philosophy on life?
Have fun; if you look for enjoyment, you will inevitably do well.
Words of wisdom?
Best Advice I was given:

Lead by example.

Advice I'd give:

Be curious and lead by example.

What I wish I'd known:

A perfect career path does not exist; when you take the wrong direction, you discover things you are good at.
Click here to read more of our BioLeaders interviews.