Peter Leyland
BioLeaders Interview – Peter Leyland (April 2020)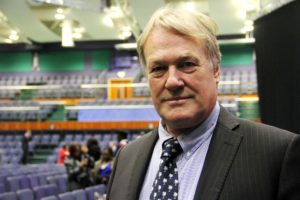 Following my early career in agriculture working in the less developed world, I did an MBA with a leading business school which opened the door to a successful and rewarding global corporate career with Baxter Healthcare. In 2005 I transitioned the wide array of leadership and commercial skills I had developed in a blue-chip culture into the world of early stage, investor backed life science companies. Whilst the more entrepreneurial environments require the capacity to formulate and execute quick decisions and manage risk, other skills are relevant to both; building sustainable strategic partnerships, inspiring employee loyalty to achieve collaborative success, strategic thinking and influence, supporting and developing talent, as well as exceptional communication and passion to inspire.
I am married to Claire with two children of whom we are immensely proud. Our daughter is an area manager with Amazon, currently supporting NHS logistics and our son is a teacher of Autistic children.
Key milestones in your career journey to date?
Early career spent in agriculture which enabled me to work and live in East Africa by Lake Victoria, Syria in the Euphrates Valley and Russia being part of the Anglo Soviet working party on food processing and packaging.
Recognising the value of an MBA through Manchester Business School to encourage business thinking.
This led to my global career with Baxter; working in Europe and the US; for the orthopaedic and renal divisions; ultimately as SVP of Global Renal.
Since 2005 I have transitioned my skills into early stage, investor backed companies; Orthoradix, Cardiak, VivoMedica, Penlon and Sibelius Natural Products.
Who has had the greatest influence over your career?
Philippe Rosinski, Management Coach who guided me through the transition from Manager to Director.
Harry J Kraemer, CEO Baxter Healthcare who led us to know that doing the right thing was always the right thing to do.
Chris Towler of OSEM and others who recognised what I could do, even before I saw it myself.
Your approach to spotting and developing top talent?
Balancing the instinctive vs gut feel when initially assessing a new hire but following up with hard data.
Particular success with attracting and developing bright, hi-potential Interns with first class or master's degrees; who are the first in their family to have a tertiary education; and have achieved their success through a strong work ethic, being independent, self-managing and taking responsibility for their careers.
What attributes make an outstanding leader in today's world?
Resilience, integrity, energy, flexibility, collaboration, creating a culture which respects work/life balance for all colleagues, and the value of a Plan B (which is never more apposite than in the current Covid-19 crisis and Brexit).
What is our industry's contribution to improving climate change?
One of the biggest challenges in our industry is procuring suitable recycled or recyclable packaging materials. Our new consumer nutraceutical lines have gone back to glass containers, and with some difficulty we can now source plastic caps that met these criteria.
How do you create a culture of continual learning, innovation and curiosity?
This comes through the quality of people you hire; who will reflect the cultural values of the organisation. I try to create a collegiate atmosphere where all can contribute and give individuals within the team the opportunity and responsibility to lead.
What's your hidden talent or something that might surprise others about you?
I am a competent rower and sailor representing both at school and universities. I have a passion for collecting classic MG cars, but for now, have run out of garage space.
Thoughts on the current funding model for early stage companies?
How does the UK achieve greater parity with the US model which has a different appetite for risk/reward?
What more can the government do to create a growth funding environment through later investment stages, against clear milestones, to maximise value creation in the UK rather than the necessity to go to the USA.
Is the availability of seed funding and grants for new companies too easy to secure; should fewer companies be funded so that the available funds are incentivised to go deeper into the investment cycle where greater value and job creation lies.
What will be the biggest technological transformation in the industry over the next 5 years?
Looking for more natural solutions, as we are working on at Sibelius; these could be used to start to address some of the conditions currently managed by the pharma sector like diabetes, cardio, derma, gastrointestinal, cognitive and metabolic health.
Your views on encouraging volunteering amongst colleagues?
At Sibelius we have a corporate social responsibility programme, both formal and informal, to encourage colleagues to interface with the charity sector which cannot be underestimated. For the next two years Oxfordshire Mind is our chosen partner. Personally, I have been involved with children with ADD/ADHD for 20 years who became more noticeable to me while on expatriate assignments.
Your legacy to the sector?
Spotting and developing young talent; creating opportunities for them to show what they are capable of and nurturing those skills.
My ultimate legacy would be to find a solution that allowed ADD/ADHD children a better way of coping with their condition so they can be the children (and adults) they were meant to be.
Your simple philosophy on life?
Enjoy it, make a difference and leave a positive trail.
Words of wisdom?
Best advice I was given: Go to business school to get a rounded education.
Advice I would give: Be the best you can; don't take 'No' for an answer.
What I wish I'd known: Understanding the value of professional sales skills, we all sell for a living, whatever it is we do.
Click here to read more of our BioLeaders interviews.