Thomas Pedersen
BioLeader Interview – Thomas Pedersen (December 2020)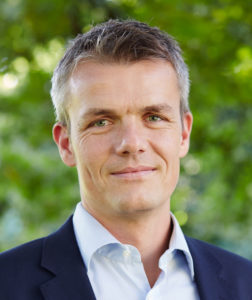 Thomas has an academic background in skeletal muscle physiology and neuromuscular disease. He holds a PhD in Physiology from Aarhus University and he did two years of post doctoral work at Cambridge University. Thomas has years of experience in cellular electrophysiology and he has published more than 30 high-ranking papers including a first author paper in Science and several papers in The Journal of General Physiology. NMD Pharma was founded on scientific discoveries obtained in the Muscle Laboratory at Aarhus University in which Thomas holds a position as Associate Professor.
Key milestones in your career journey to date?
Completing my PhD in Physiology and Biophysics.
Co-founding NMD Pharma and raising €38m in early 2018 in the Series A for NMD.
Launching NMD Pharma's Phase 1 study with NMD670 in September 2020.
Who has had the greatest influence over your career?
My family and my parents.
Ole Bækgaard Nielsen, Professor at Aarhus University, Demark.
Chris Huang, Professor at Cambridge University.
Patrick Vink, Chairman at NMD Pharma.
Your approach to spotting and developing top talent?
The NMD team has been selected for their culture fit, team interaction and collaboration, energy, work ethic, tenacity and desire to take initiative and communicate.
Their on-going development is being achieved by the culture they are creating that promotes initiatives, gives permission to fail, encourages delegation and finding a solution together, cross team working which enables them to understand each other's role, avoiding silos and reaching pragmatic decisions.
As a result, NMD is a first class team which will drive the on-going success of the company.
What attributes make an outstanding leader in today's world?
Communicate clearly and with passion.
Create transparent values and goals which have been agreed by the team.
Establish a flat organisational structure which encourages flexibility and recognition for success.
Demonstrate that you trust in your organization and people that carry it.
What is our industry's contribution to improving climate change?
We all now realise we don't need to travel as much, making greater use of video technology, resulting in a more balanced outcome for the climate.
Continue to explore the benefits of green energy across the industry.
How do you create a culture of continual learning, innovation and curiosity?
Arrange off-site days with the team to encourage innovative thinking; for example, how to expand the target pipeline.
Regular tea-time seminars, where colleagues present on a work-related topic and how it will benefit the company.
Cross-disciplinary presentations, discussion and finding solutions together.
What's your hidden talent or something that might surprise others about you?
I like to collect stone age tools with my children and speculate with them about who made the tools we find. Some of my favourite books are math books.
Thoughts on the current funding model for early stage companies?
Denmark is an attractive country for starting companies in Biotech. There are several sources of funding for early stage companies such as Innovation Fund Denmark, Lundbeckfond Emerge and Novo.
I believe more talented academics would be encouraged to get involved with spin-outs leading to further growth in Biotech if such accomplishments would be recognised similarly to producing scientific papers. After all it is very meaningful to translate scientific discoveries into something tangible like a drug for benefit for patients. I view this is as my ultimate goal.
What will be the biggest technological transformation in the industry over the next 5 years?
Gene therapy products and individualized medicine.
Better understanding of disease mechanisms in complicated disorders like amyotrophic lateral sclerosis.
Better and more physiological high-through put screening assays for target and drug discovery efforts.
Your views on encouraging volunteering amongst colleagues?
I think that is something we could do a lot more in Denmark. NMD Pharma would love to contribute more. For instance, to the patient organizations of neuromuscular disorders.
Your legacy to the sector?
Whilst rather early in my career, I would like to think that I have shown that early discoveries in basic science can lead to great ideas for novel treatments that one day may benefit patients. But it requires that you invest yourself into it.
Your simple philosophy on life?
Whatever you do try to do it to the best of your ability and be satisfied with that.
Realize that you can't do everything and trust in people you work with, remember to show that you trust in them.
Maintain high level of personal integrity, decency, and honesty.
Words of wisdom?
Best Advice I was given: Make sure to give credit to people you work with. Always support and be loyal to your team. Make other people look good.
Advice I'd give: Don't attempt to manage all process and decisions in your organization. Have faith in your colleagues and peers. They may not solve matters like you would but in the end they may well come up with better solutions. Give space to other people.
What I wish I'd known: Nothing specific comes to mind. I don't mind to learn as I move forward.
Click here to read more of our BioLeaders interviews.