Tim Sparey
BioLeaders Interview – Tim Sparey (February 2020)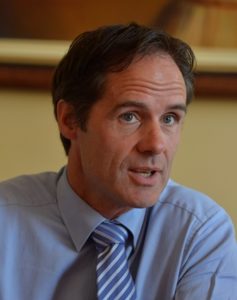 CEO of Novintum; lives in North London; education: PhD in Chemistry; Hobbies: sports, wine and eating out.
I am a medicinal chemist by background, with 25 years spent in large pharma and biotech has helped build companies in multiple disease areas including cancer, CNS, inflammation and ophthalmology. My track record of licensing, fundraising and exits, in private and public companies, has included Proximagen (CBO), Q Chip (CEO), Midatech (CBO) and Novintum Bioscience (CEO & co-founder). I also advise and chair several companies in the areas of AI/machine learning, automation technologies and novel therapeutics.
Key milestones in your career journey to date?
Getting involved with Alzheimer's science in the late 90s at Merck taught me how exciting, humbling and difficult drug discovery is; creating a biotech inside the Merck corporation; learning the art of deal making at Proximagen; building value for Q Chip exit; founding Novintum in 2016, under the radar, to develop a novel treatment for cancer; our new approach to targeting mitochondrial function in cancer will become a key area of interest to industry over the next few years.
Who has had the greatest influence over your career?
Ray Hill and Brian Jones at Merck – showing what is possible inside big pharma; Ken Powell, the Chair in my first CEO role at Q Chip; the Novintum team has been phenomenal; Simon Bennett, an outstanding independent collaborator; and my wholly supportive family.
Your approach to spotting and developing top talent?
Developing a thorough assessment of the role requirements and a detailed analysis of potential candidates are vital. BUT, following my gut feel! Dr Marie-Christine Bissery, CSO at Novintum is an example; an exceptionally talented drug developer.
What attributes make an outstanding leader in today's world?
Take responsibility; admit when wrong; stretch colleagues beyond their comfort zone; manage expectations and make it fun!
What is our industry's contribution to improving climate change?
I don't think there is much progress here – perhaps in the supply chain and commercial activities. I really don't see much in the way of meaningful action.
How do you create a culture of continual learning, innovation and curiosity?
Align cultural values; understand individuals and support colleagues in situations where they are challenged and when adapting to change; foster resilience; curiosity is a characteristic of the willing mind – most people, including investors, are scared of making a mistake; true entrepreneurs make many mistakes on the journey of inventorship and innovation.
What's your hidden talent or something that might surprise others about you?
I enjoy developing new ideas, usually risky and well outside of the current interest areas such as immunotherapy – one example is our new approach to targeting mitochondrial function in cancer – this will become a key area of interest to industry over the next few years. Not sure if this is a hidden talent!
On a personal level, my love of 1970s music has given me an excuse to wear 1970s clothing. Despite not being 'around' in that decade, my parties have always had that decade as a theme. And with a 'big' birthday coming up, even more reason to celebrate the decade with the most diverse music taste!
Thoughts on the current funding model for early stage companies?
Having spent considerable time with investors in the US, China and the EU in the past year, the UK investor base feels different including being relatively risk averse and often centred around academic centres. Funding early stage research away from traditional bases can be difficult to secure. However, there is a rich base of basic science and innovation that provides a flow of investment opportunities. I suspect more opportunities will gain non-UK based funding.
What will be the biggest technological transformation in the industry over the next 5 years?
Using analytics to understand different datasets – we've heard terms such as big data and AI; terms most groups don't understand. The fundamentals of data analysis haven't changed – rubbish in, rubbish out – therefore understanding the data source and its provenance are key. Looking ahead, predicting drug response using algorithms will be the next frontier in therapy.
Your views on encouraging volunteering amongst colleagues?
It is positive for colleagues, team building and the charity/group.
Your legacy to the sector?
Too early to say!
Your simple philosophy on life?
Try your best, don't follow others; be different, communicate effectively and have fun.
Words of wisdom?
Best advice I was given: Don't give up!
Advice I'd give: Don't give up!
What I wish I'd known: Be more flexible about working internationally.
Click here to read more of our BioLeaders interviews.