David Roblin
BioLeaders Interview – David Roblin (October 2019)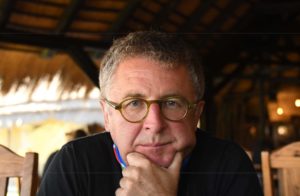 President of R&D and COO of Summit Therapeutics PLC, Chair of Scientific Translation at The Crick, NED at SoseiHeptares PLC, various grant committees at Wellcome and LEO Foundation; age 53; married with 3 children; Welshman of Kent; education: comprehensively near Swansea, then UCL and St George's; Hobbies: travelling extensively with my family – Namibia in 2019.
Key milestones in your career journey to date?
Leaving the land of my fathers (Wales) in 1985; meeting my wife, Sally, at medical school in 1987; my career went from bedside to bench and now back again; graduating from medical school in 1991; moving over to the 'dark side' as my NHS Consultant called it at the time in 1995 (initially Bayer and then Pfizer), joining Summit Therapeutics in 2013 and the Crick in 2014 enabling me to influence translational medicine and anti-infectives at a critical moment.
Who has had the greatest influence over your career?
Bits from many. For bosses, those who have respected my need for challenge and space; Sir Paul Nurse's intelligence and focus on the end-goal was extraordinary. But also people like Dr Ron Knight at Royal Brompton who taught me the value of a positive bedside manner which I like to think I carry with me now in business.
Your approach to spotting and developing top talent?
Standing on the shoulders of giants; always appoint those better than you and don't be frightened of this, and create business flexibility that allows you to hire great talent even when the timing might not be perfect nor the need is there!
What attributes make an outstanding leader in today's world?
Clarity of vision (what successful outcome looks like) communicated repeatedly to the team; create a dynamic environment with freedoms that enable colleagues and the company to respond to change of circumstances and achieve the vision.
 What is our industry's contribution to improving climate change?
Our industry sector should and could be doing more. At Summit and The Crick we use technology to reduce our environmental footprint; pulling teams together on Skype rather than travelling. Environmentally, the impact of drug development and distribution is on our agenda; progress is being made with packaging and supply chain; the environmental impact of drugs (particularly antibiotics given issues with antimicrobial resistance or AMR) remains an on-going challenge for the industry.
How do you create a culture of continual learning, innovation, and curiosity?
I task myself annually to learn something new and stretch out of my comfort zone. And this is part of Summit's mantra; as a company, we set clear expectations for learning through an individual's development review; asking the question 'what will I learn over the next 12 months?'; and we set aside time and budget for training and support for individuals to achieve this.
 What's your hidden talent or something that might surprise others about you?
Most people will know me as a jack of all trades master of none. One of my many interests is as an amateur historian; with a particular interest in US history; I have visited 41 of the US states and probably know the country better than many US citizens! What I love is that the US have successfully recorded their (modern) history through great museums such as Monticello, Virginia which celebrates the life of Jefferson and his influence the US Constitution, the JFK Presidential Library and Museum in Boston to name just two.
Thoughts on the current funding model for early stage companies?
For anti-infectives it's completely broken; I could use stronger words! This is extraordinary at this time of impending disaster due to AMR. We rely significantly on non-dilutive grants from governments and charities and some key visionary investors who remain committed. For most other sectors of the industry, it works well although there are clearly medicine price pressures being exerted in the US which could have an impact.
What will be the biggest technological transformation in the industry over the next 5 years?
The applications of genomic technologies to therapeutics – gene editing and RNA inhibition is very exciting and allows us to interact directly with gene function in many diseases, not just those that are monogenic.
Your views on encouraging volunteering amongst colleagues?
At Summit we make use of volunteering to encourage team building; in Massachusetts, we are involved with a charity 'Cradles to Crayons' which provides clothing and support to disadvantaged groups; it is important to step outside our comfort zone, from our position of great privilege, and be aware of a different part of society; all companies can encourage this amongst their colleagues.
Your legacy to the sector?
Medicines and people. You never forget your first and mine was moxifloxacin or Avelox, launched back 1999 remains one of my proudest claims; it has saved more lives than I ever would have practicing medicine. The people I've had the privilege of leading and working with who have gone on to great things.
Your simple philosophy on life?
I sign off many of my memos to colleagues with the work; 'Onward'. I always like to maintain forward momentum!
Words of Wisdom?
Best Advice I was given: 'Sometimes you just need to play the game as it is set'. Dr Larry Baker, St Bartholomew's Hospital, when I failed my membership.
Advice I'd give: 'Worry less about what people think and more about who you are'.
Click here to read more of our BioLeaders interviews.