Fiona Nielsen
BioLeader Interview – Fiona Nielsen, Chief Operating Officer at o2h Technology (October 2021)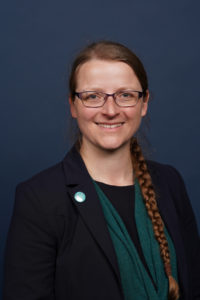 Fiona Nielsen is the Chief Operating Officer at o2h Technology, the software services arm of o2h Group. The o2h Technology team of expert engineers are specialised in building web and mobile app MVPs for start-ups primarily in life sciences, health tech and green tech.
Fiona got her degrees in computer science and bioinformatics in Denmark and the Netherlands. She moved to Cambridge to specialise in genomics and next-generation sequencing, working for Illumina. She left Illumina to found the charity DNAdigest and the company Repositive which she ran for 7 years, before handing over the reins to Catherine McDermott in December 2020.
Key milestones in your career journey to date?
I studied Computer Science at Niels Brock International Business School, then went to The University of Southern Denmark to study bioinformatics. I got offered to do both my master's and PhD in the Netherlands at Nijmegen Centre for Molecular Life Sciences. I gradually focused my work on more and more specialist topics until I had my wake-up moment when my mother was diagnosed with cancer. I decided to change my career from an academic scientist to doing bioinformatics for genomics in industry, namely at Illumina in Cambridge, where I could work on projects that directly could feedback to clinicians to inform patient care. My second big move occurred about 2 years after I first started at Illumina: I left my 9-5 job to become an entrepreneur, starting with founding the charity DNAdigest to facilitate data sharing for genomics research to speed up the search for cancer cures worldwide. The third big move was when I was joined by one of my Illumina colleagues Adrian Alexa and spun out the commercial company Repositive to realise my vision of creating an impact for cancer research.
Who has had the greatest influence over your career?
My father has always been a big inspiration. He has always taught me to think independently and not get hung up on not always fitting in a box. Oftentimes, the only way to create progress is by working outside the box.
Your approach to spotting and developing top talent?
As my key tip for any recruitment of talent in a start-up is to focus on identifying the people who have that intrinsic motivation to push ahead and create their own way where no way is given.
What attributes make an outstanding leader in today's world?
Listening, communicating, and leading by example. Actions speak louder than words. I believe that the reason Angela Merkel has been a celebrated and trusted leader for so long is because her actions and values have always been consistent. And there is no better position to lead from than from a position of trust.
How do you create a culture of continual learning, innovation and curiosity; and how might volunteering contribute towards this?
Learning, innovation, and curiosity are fed by inspiration and space. In a company setting, I recommend creating time and space for the people to learn, experiment, and spice up the routine of work with inspiration from interactions with other people or other topics than what usually comes up in work context. Offering the opportunity of volunteering is a great way for individuals to gain inspiration from a cause they care about.
The 2020 pandemic has changed the way we all work, possibly forever; what will remain beyond Covid and what will you welcome back?
I would hope that work culture changes from "always on, always working" to "don't work when you are not feeling well" and allowing time for physical and mental wellbeing at work.
Thoughts on the current funding model for early-stage companies; and the impact on valuations and availability of capital catalysed by the 2020 pandemic?
There was a marked increase in funding for everything related to health, biopharma, and biotech, I think mostly because a lot of other areas for investment suddenly had a high level of uncertainty. Now the initial dust has settled, I hope that investments will prioritise areas that are of global importance, such as solutions for tackling climate change and solutions for tackling inequity in all its forms, from inequity in global vaccine distributions to inequity in access to opportunities for underrepresented groups.
Regulators have adjusted their pace to meet the challenges of Covid; how can you foresee this might play out with the approval of future non-Covid therapies and technologies?
I hope that the many learnings from the pandemic will be applied to future drug discovery, drug approvals and clinical trial regulations. A lot of red tape was cut to enable first vaccines presented within a year of the virus genome being published, and more red tape to allow for the rapid vaccine roll out and scale up of production which is still on-going. We will need all of these learnings, and can apply them to all global healthcare problems, including setting up a good defence for the next pandemic outbreak.
What will be the biggest technological transformation in the industry over the next 5 years?
Advances in quantum computing will pave the way for new technological solutions, especially in messy sciences such as biology and chemistry. The difficulty is to predict exactly when the hardware and applications will catch up with the promising theoretical work in the field.
What is your hidden talent or something that might surprise others about you?
During the first year of the COVID-19 pandemic I taught myself to play the violin. I am no expert yet, but practice makes perfect.
Your simple philosophy on life?
I invest my life in experiences and people. I would rather spend my time and money on learning and exploring (such as courses, books, travel and meeting new people) rather than e.g. buying the latest tech gadgets. Investments in the people around me and in particular investing in shared memories always have the biggest return on investment.
Words of wisdom?
Best Advice I was given: "Don't let school interfere with your education." – my father told me this quote attributed to Bertrand Russell. He taught me that I have the power to learn, and I should not be hindered by pre-existing structures or expectations.
Advice I'd give: If you ask me whether you should start a company doing this or that, I will most likely say no. I will tell you of all the effort, the sleepless nights, the stress, and the cost to your social life. And if you still want to start a company, I will congratulate you for your persistence and remind you to cherish every win and your learnings along the way.
What I wish I'd known: I fail to imagine my past self-making better choices if I knew different things. As humans we are always doomed to do our best with limited knowledge and understanding, and I have no problem living with knowing that I will sometimes make sub-optimal choices in retrospect without ever wanting my life to pass any differently.
Click here to read more of our BioLeaders interviews.