Dr. Kevin Pojasek
BioLeader Interview – Dr. Kevin Pojasek, CEO Enara Bio (July 2021)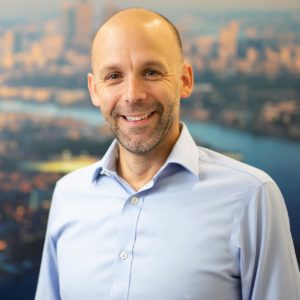 Dr. Pojasek is a biotech executive with nearly 20 years' experience founding and leading companies in the US and UK. Dr. Pojasek is currently President and CEO of Enara Bio, as well as Founder and Director of Catamaran Bio and Venture Partner for SV Health Investors. Prior to joining SV, Dr. Pojasek was Chief Strategy and Business Officer and a member of the executive leadership team at Immunocore Ltd. Prior to joining Immunocore, Dr. Pojasek was President, Chief Executive Officer of Quartet Medicine, a company he co-founded as an Entrepreneur-in-Residence at Atlas Venture. Dr. Pojasek was also the Chief Operating Officer of Annovation Biopharma, another Atlas Venture-funded company, which was sold to the Medicines Company in January 2015. Earlier in his career, Kevin held senior R&D and corporate development roles at several venture capital-backed companies, including Vice President of Corporate Development at Kala Pharmaceuticals, and spent time as an investment associate at PureTech Health.
Key milestones in your career journey to date?
A clear sense, early on, about a career in science, influenced in part by my Dad who is a PhD-trained chemist
Finished PhD at MIT in 2003 just as the Kendall Square biotech ecosystem was taking off; joined PureTech Health where I was involved in starting several early stage biotechs; essentially functioned a 'business post-doc' by learning about working with an early-stage investor backed biotech.
First-time CEO at Quartet Medicine in 2013, before turning 40, during my time as a entrepreneur-in-residence at Atlas Venture; raised >$23M in Series A capital; completed a strategic partnership and option-to-acquire deal with Merck worth up to $595M.
Moved to the UK in 2016 to join Immunocore as Chief Strategy and Business Officer, helped set up and run the infectious diseases group for Immunocore; raising $40m from the Gates Foundation; contributing multiple clinical programs to the current portfolio; focused on developing and evolving next generation leadership principles with the team.
Joined SV Health Investors in 2018 as Venture Partner.

Helped raise firm's first biotech-only $265m venture fund.
Co-founded and served as executive chairman of Catamaran Bio – a CAR-NK company based in Boston; led fundraising for $42m Series A in 2020.
Helped advance Enara Bio as part-time CEO, joined full-time after completing $33m Series A fundraising.

Relished opportunities to work in multiple geographies and with multiple cultures; running substantial outsourced discovery research in China and working successfully with 2 Shanghai-based investors at Quartet; running a global Phase 2 clinical study, including sites in India; living and working with multiple biotechs and investors in the UK.
Who has had the greatest influence over your career?
Too many to name; extroverted by nature, I relish being challenged by those who hold a mirror up to my blind spots.
Cultivated my own 'CEO support network' while in Boston, Mass; populated by a talented, experienced group of individuals with whom you could celebrate your wins and reflect and learn from your losses. Focused on building a network outside of biotech where I can gain inspiration from leaders of other fields.
Recent inspirations from:

Frederic LaLoux's fresh take on organizations – Reinventing Organizations.
Amy Edmonson's work on psychological safety in the workplace.
Reid Hasting's approach to high performance culture at Netflix.
Brene Brown around the role of courage in selfless leadership.
Joseph Campbell's advice around follow your bliss and views of the interconnectedness of humanity through history.
Your approach to spotting and developing top talent?
Self-awareness is the most powerful attribute; the ability to know who you are, how you turn up.
Also look for a willingness to ask for help, sense of independent spirit, diversity of lived experience, caring, humble, committed – high discretionary effort.
Flexibility in how people are developed at Enara – domain specific experts vs generalists; individual contributors vs. leaders of people.
Enara's culture of autonomy and agency attracts those who want to drive things through in a collaborative environment and embrace diversity at all levels.
What attributes make an outstanding leader in today's world?
Leadership as defined as service to others which is focused catalysing success in others by creating an environment where individuals and teams can thrive.
Use resources to create 'power with' rather than the conventional leadership of 'power over' avoids some much of the wasted energy witnessed in the global political and corporate arena.
How do you create a culture of continual learning, innovation and curiosity; and how might volunteering contribute towards this?
We put humanity and our people at the heart of our organization.
So many people are made miserable by the work that they do – a huge negative energy in our society.
At the end of the day/week/month/year, the aim is to have every Enara employee feel like they are better off, more fulfilled, happier based on the work that we do together.
At Enara, we have 3 pillars, the Enara Expedition; purpose and values; autonomy; authenticity.

Purpose and values are the why and the how of our work.
Autonomy and accountability – comes down to agency.

This is the framework for our role-based project team structure – provides people with control to choose what and with whom they work, but comes with a sense that we are all in this together and need to co-own our culture and our company.

Authenticity is about human connection – removing ego and masks to have more simple and deep connections; foster psychological safety; be free to try and fall and get up again – the heart of learning and innovation.

We also promote a strong feedback culture which is about self-less continual growth and learning.
We offer regular workshops on leadership, courageous conversations, giving/receiving feedback and other core skills to help our employees grow at Enara and flourish later in their careers.
Routinely take time out to embed and evolve our culture in the organisation, critical to reinforce our culture especially during growth to prevent complacency.
The 2020 pandemic has changed the way we all work, possibly forever; what will remain beyond Covid and what will you welcome back?
Despite all the challenges of the pandemic, our team is has found a surprisingly positive and engaging groove, including running a number of virtual all-company workshops focused on our culture.
These have created greater engagement between teams and different conversations.
Enara's new workspace is being fitted out to enable hybrid working, which we are scoping out as a team; and cannot wait to start spending more time together together again under the redefined model.
Thoughts on the current funding model for early-stage companies; and the impact on valuations and availability of capital catalysed by the 2020 pandemic?
The financing environment has never been better – more private capital raised in the first 6 months of 2021 than the entirety of 2020 which itself was a record year.
Fully functional IPO and follow-on capital markets in the US is helping advancing preclinical and clinical companies reduce their cost of capital.
There has never been more capital in the world; the trick is to go find it!
If you think globally, capital now exists in many places, including sovereign wealth funds, Softbank, US pension funds, Life Science Vision Fund and British Patient Capital in the UK, venture capital, angel investors to name but a few.
Companies, boards and investors need to be careful – Data suggest that there is more money going into the same number of deals year-on-year – unconstrained capital can lead to lack of discipline which can drive a real separation between the winners and losers when (not if) the music stops and financing becomes constrained again.
There are philosophical challenges to the venture capital funding model, especially as it relates to solving the longer-term problems faced by society while working within the typical 10-year fund cycles and 3-year investment periods with the typical VC model; the economist Kate Raworth's work is provocative around some of the systemic challenges.
Regulators have adjusted their pace to meet the challenges of Covid; how can you foresee this might play out with the approval of future non-Covid therapies and technologies?
The speed with which the regulatory agencies initiated rolling reviews, in the push to create vaccines, thus encouraging the greater interactivity between strategic partners, has been outstanding.
The move away from the adversarial relationships between companies and regulators to a more collaborative model is here to stay and should be embraced.
What will be the biggest technological transformation in the industry over the next 5 years?
The use of in vivo crispr and base-editing technologies will continue to help identify novel targets from more complex in vivo systems; use of in vivo CRISPR could also help transform the treatment of many diseases and make certain existing therapeutic modalities obsolete.
It might take longer than 5 years, though!
What is your hidden talent or something that might surprise others about you?
My comfort with uncertainty, ambiguity and change means I search out disruption whilst being very people focused; helped drive my own entrepreneurial journey.
Running, including marathons keep me fresh and grounded!
Your simple philosophy on life?
Find your purpose and follow it; clarify your values and live by them.
Maintain balance – rest, exercise, personal growth/development, human interaction.
Words of wisdom?
Best Advice I was given:

Be observant and curious – the world is filled with wonder everywhere we look; don't miss it!
Don't underestimate the power of human connections – who you know is often more important than what you know – challenging, mentoring, coaching and path to new opportunities.

Advice I'd give:

Know yourself…path to happiness and better leadership is inward – self-knowledge and self-worth are the cornerstone for challenging the status quo and innovating.
Follow your own path…biotech has never been less constrained; do what you love every day and see where it leads you.

What I wish I'd known:

More willing to just be my authentic self – letting go of fragile ego and stepping into selfless leadership has only come later in life.
Click here to read more of our BioLeaders interviews.