Ros Deegan
BioLeaders Interview – Ros Deegan (October 2019)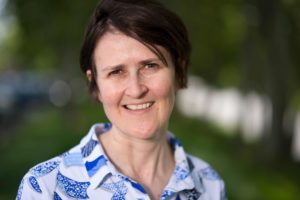 CEO OMass Therapeutics in Oxford. Has lived in Belgium, France, US and UK. Studied at Cambridge University and INSEAD. Likes to explore both the physical world with her husband, and the scientific world with her company.
Key milestones in your career journey to date?
Moving into the biotech world in 2008, travelling between countries – working in the US in 1999 and again 2006 – 2019; first SVP role and IPO at Trevena in 2013/14; first CEO role at OMass in 2019.
Who has had the greatest influence over your career?
Max Gowen at GSK and Trevena, female CEO and senior leader role model.
Ad Rawcliffe, GSK.
Kevin Lee, Bicycle.
Your approach to spotting and developing top talent?
Keep an eye on upcoming talent and build your network.
The value of skills, passion and self awareness.
What attributes make an outstanding leader in today's world?
Good judgement.
Navigate ambiguity.
Inspire others.
What is our industry's contribution to improving climate change?
At an operational level being proactive about recycling, driving an electric car, funding a cycle to work scheme.
Strategically how does our industry rebuild the reputation it had in the 80s by navigating the conflict between respecting and ignoring science.
How do you create a culture of continual learning, innovation and curiosity?
By rewarding and incentivising whilst recognising the balance of innovation against commercial milestones.
What's your hidden talent or something that might surprise others about you?
I'm an armchair detective – fascinated by murder mystery novels and dramas.
Resumed my rowing career; great team dynamic.
Thoughts on the current funding model for early stage companies?
OMass is privileged because of the long-term patient capital which comes through the Syncona model.
Critical mass drives concentration of talent – encouraging more of this in the UK.
Encourage hubs to interact and support the ecosystem.
What will be the biggest technological transformation in the industry over the next 5 years?
Biophysical approach to new biology and screening – as we are doing at OMass.
Your views on encouraging volunteering amongst colleagues?
Partner with research charities to benefit patient groups.
Your legacy to the sector?
Remain forward looking; and transform OMass into a premier biotech with potential to become a Unicorn.
Your simple philosophy on life?
Don't put things off – do what you enjoy today – even if that means moving away from your mainstream career; I have no regrets about doing my MBA and taking a year out to travel.
Words of Wisdom?
Best Advice I was given:

Importance of unconscious bias – value of diverse team.

Advice I'd give:

Invest time in networking – no meeting is wasted.

What I wish I'd known:

Preparation and practice leads to even greater success; even if you are a competent winger!
Click here to read more of our BioLeaders interviews.