Managing Partner, Jeito Capital (July 2023)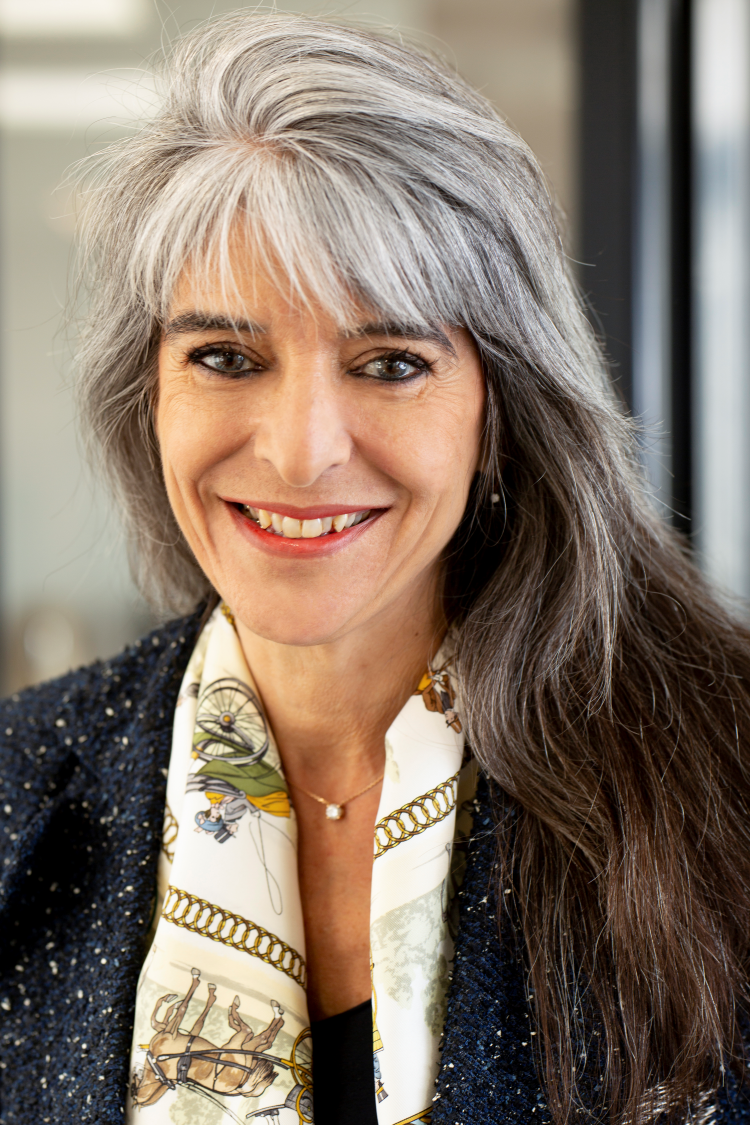 Sabine Dandiguian is Managing Partner at Jeito Capital and has over 30 years of experience in the pharmaceutical and medical devices industry. These years of experience have enabled her to acquire in-depth operational and strategic capacities, particularly in market access, innovative "business models" and management.
She has spent the last 20 years at Johnson & Johnson, in operational positions of increasing responsibility, notably at Janssen (Johnson & Johnson's pharmaceutical sector) as President France in 2005, then Managing Director of European emerging countries, in charge of a cluster covering Russia, Turkey, the Middle East and Africa, and 3 years later, she was promoted to Company Group Chairman, President Europe in Johnson & Johnson's medical sector, managing  $3.5bn of turnover and an international team of 4,500 people.
Sabine Dandiguian has been recognized as Chevalier de l'Ordre du Mérite, Chevalier de la Légion d'Honneur and is a member of the « Assemblée des 100 » of Institut Pasteur. She has been a member of W.I.T.H (Women Innovating Together in Healthcare) since its creation.
Sabine Dandiguian graduated in Finance from ESCP Business School (Grande Ecole).
Key milestones in your career journey to date?
After business school, I went into consulting, which led unexpectedly to my career in pharma. I worked for different French pharma companies leading to "my preferred one", Janssen, the pharmaceutical division of the US giant Johnson & Johnson.
As President of Janssen France, I was very proud of the team performance when we achieved an amazing milestone; being the first non-US subsidiary to reach $1bn revenue. That was the result of a transformation of the business model, towards very specialised drugs with a strong focus on market entry strategy and patients' benefit.
My next challenge was as Managing Director of European Emerging markets. I learned about different market dynamics, the importance of cultural differences whilst always focusing on breakthrough innovation and the quality of the teams.
Finally, when leading the medical device/surgery team for J&J as President Europe, I confirmed that my "two right hands" for success were CFO (right financial resource allocation) and HR (right people, in the right position, well developed and engaged).
The opportunity to join Jeito in 2020 has been another great move in my career, and the perfect place to harness my knowledge and skills gained over 30 years; to focus on innovation, working with an ambitious and passionate team whose goal is enhancing the patient benefit, as well as supporting entrepreneurial CEOs on their journey.
Who has had the greatest influence over your career?
I have had the opportunity to work with so many great leaders throughout my career; those who recognised my potential despite my "diversity" (as a female leader in corporate businesses, not a scientist, someone who has never worked in the biggest pharmaceutical market, the US). But if I have to choose, I would like to highlight:

Paul Stoffels at Janssen/J&J who inspired me with his relentless search for breakthrough Innovation claiming, "Patients are waiting".
And of course, Rafaèle Tordjman, my present CEO who founded Jeito with such a clear vision and ambition to create future market leaders out of great European science and, more importantly, focusing on what is the driver of value creation: patients' benefits.
What top three attributes make an outstanding and relevant leader in today's world?
Understand and build the power of collective intelligence which brings together diverse opinions and the ability to understand and anticipate more effectively.
Proactively attract those who are different and be aware of inclusivity.
Set a clear ambition which will inspire others to follow.
Describe your approach to identifying and developing high performing teams
The power of collective diversity.
The development of soft skills and expected behaviours which create the values and culture of a successful organisation.
Engage them by proposing an ambitious and meaningful vision.
How does your company meet the challenges of leading a multi-generational workforce?
Listening to advice from those in their 30s, including my children, which involves being humble and accepting challenges.
Focus on the patient, with a clear link to societal value, is so meaningful to us all, and particularly the younger generation.
Recognising we have the chance to work in a very special sector.
Tell me something about your company that you would like to share with the PIR community
The patient journey is at the core of Jeito values and ambition.
Our collective intelligence creates competitive advantage.
How has your company created a more diverse culture in recent years; and what do future challenges look like?
Jeito's employees represent a diversity of gender, ethnicity and nationalities (from France, Switzerland, the UK and the US) and also diversity in experiences and behaviours.
A priority, with the fast-growing roadmap of Jeito, is to pay attention to integration processes which focus not only on "what" but also on the "how".
The provision of flexible working and employee wellness support are increasingly important in the retention and attraction of key talent. How are these being managed by your company whilst ensuring that productivity targets are met?
The majority of the Jeito team prefer to work from the office, valuing the exchanges with and support from their colleagues. As a young team we are creating our DNA.
However, we do have key colleagues not based in Paris, including a subsidiary in the US, and need to capitalize on what we learned during the Covid crisis and how to make the most of working virtually.
Jeito recognises that each colleague has different needs and changing priorities which they need to manage. Flexibility is welcomed; including the opportunity to work from home on a Friday in the Paris office.
What will be the biggest technological transformation in your sector over the next 5 years?
How AI will contribute to better defined clinical designs, requiring fewer patients to get more predictive clinical results.
This should have an impact on reducing the cost of drug development which will ensure the payers and healthcare systems achieve greater efficiency.
What is your hidden talent or something that might surprise others about you?
What advice would you give your 23-year old self?
Don't hold back; ask for it and go for it; build on your strengths and who you are.
Words of Wisdom?
Best Advice I was given:
Advice I'd give:

You can have it all; retain your independence both professionally and personally.

What I wish I'd known:

Build diversity earlier on.